The Helicon Ball is a celebration of Hungarian heritage, history and traditions. Through the Helicon Ball, the Hungarian community introduces non-Hungarians to our community and invites them to join us in the celebration of our heritage.

The Helicon Ball is filled with elegance, excitement and ceremony. The evening begins with a champagne reception, followed by the opening ceremonies. This includes a presentation of the Palotás dance (a dance traditionally performed in the courts of Hungary) and the highlight of the evening – the presentation of the Debutantes.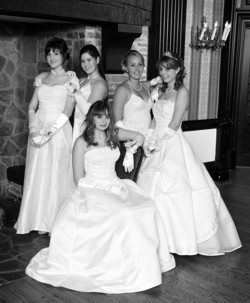 The Helicon Ball is one of the most outstanding debutante balls in Canada. Debutante balls date back centuries, when fathers introduced their daughters to society, to the community in which they lived. At the Helicon Ball, family participation is emphasized and the debutantes are introduced to the Helicon Society and to the community at large. The Debutantes, young ladies attending the Ball for the first time, will be escorted into the ballroom by their fathers or escorts and introduced to our Distinguished Guest, who officiates this portion of the evening. The Debutantes and their escorts then open the dancing with the traditional waltz, to which the other guests also join in. (For more information about being a Debutante, click here.)
We hope that we can count on your support through your attendance at the Ball this year, and through a donation or sponsorship. (Click here to visit our sponsorship page).
To view photos of past Helicon Balls, click here: Photos
To contact us, please send email to: TheBall@HeliconSociety.com